Familiar with the game Grand Theft Auto?
Certainly soon, in the name of "climate", everyone with the exception of the well-to-do, will be able to take the electro bus, train or Uber to work and back. Provided you do not violate the curfew imposed on you by doing so, of course.
Belgium wants to ban the sale of new cars with only an internal combustion engine and together with the Netherlands and Denmark.
Belgium is asking the European Commission, together with eight other European countries, for an end date for the sale of new cars with combustion engines. This is reported by Minister of Energy Tinne Van der Straeten (Green) on Wednesday. All this should kick-start the sustainable transition to electric cars.
"The climate crisis does not wait," said the Minister of Mobility Georges Gilkinet tweeted this morning. Together with the minister of energy Tinne Van der Straeten he launched "a call to the European Commission to opt for zero-emission vehicles". This call is a joint initiative of Belgium, the Netherlands and Denmark and is supported by Austria, Greece, Lithuania, Luxembourg and Malta.
Tinne Van der Straeten (Green)
Van der Straeten and her colleague from Mobility Georges Gilkinet (Ecolo) will sign a call to the European Commission on Wednesday to set a clear date for the gradual discontinuation of the sale of new cars with an internal combustion engine, i.e. petrol and diesel vehicles.
Together with Denmark, Greece, Ireland, Lithuania, Luxembourg, Malta, the Netherlands and Austria, Belgium is also asking the European Commission to impose stricter CO2 standards on manufacturers of vehicles with combustion engines, and to accelerate the development of the infrastructure needed for electric vehicles, such as charging stations. 'In this way we boost electric cars and ensure clean air, less CO2 emissions and more jobs,' says Van der Straeten. 'We have asked the European Commission for clarity with nine countries, because if we want to achieve 55% less CO2 emissions by 2030, we must start today', says the Groen politician.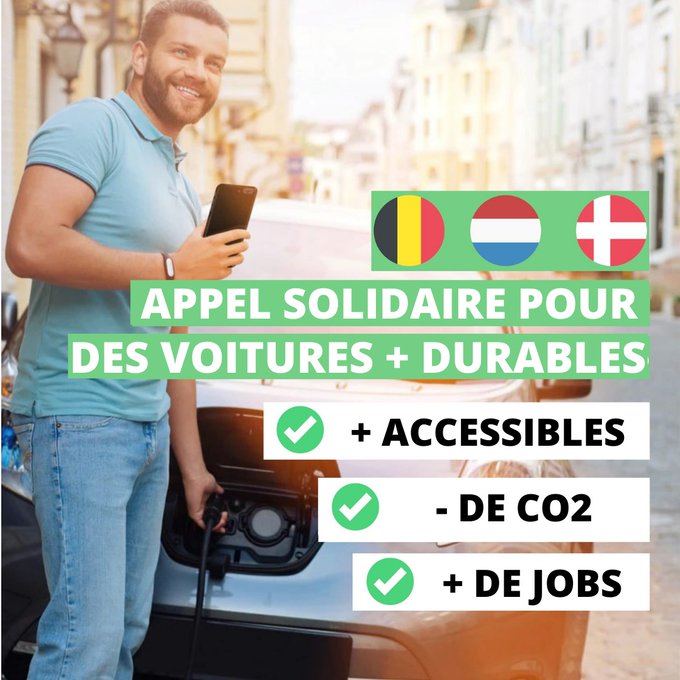 He calls the initiative necessary for the climate and air quality. 'The transport sector is the only sector in Belgium where emissions have increased in recent decades. Moreover, the transport sector is the second largest source of nitrogen emissions in Flanders and various other forms of air pollution. ' A clear end date for combustion engines also ensures investment security for companies and also boosts the development of technologies for electric vehicles, it says. That could remove two major stumbling blocks to the breakthrough of electric vehicles among the general public, namely battery life and price.
In addition, the development of the market segment would also create new jobs. The Swedish manufacturer Volvo has just decided to build only electric cars by 2030 and estimates that this will create 300 new jobs at the Volvo factory in Ghent. The energy transition will be the employer of the next decade, 'says Minister Van der Straeten.