Erdoğan ignores Trump
President <br><br>Donald Trump has sent a letter to the Turkish president Recep Tayyip Erdoğan. Trump allegedly described in this letter that he does not want to be responsible for it destroy of the Turkish economy, and that Erdoğan should not be responsible for it murder from thousands of people. The letter was closed with "Don't be a fool!" (don't be a fool).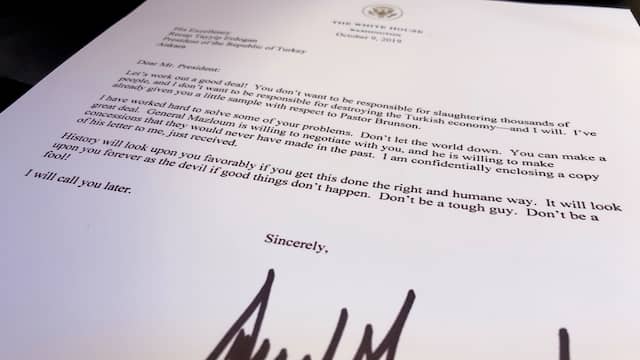 The American president already has two days ago sancties imposed against Turkey. That's how Trump got the import duties on steel to 50% businesses rise and negotiations worth such 100 billion dollars for the time being demolished. This import levy gives the Turkish economy a boost huge blow, since it first 25% used to be. It double rate is therefore topped on top.
Trump has received criticism from various sides. Democratic congressman Mike Quigley calls it one incredible letter, without further explanation.
Also from the Kremlin Trump's letter was responded to. Not with criticism but especially with disbelief. A spokesman told him he was the tone of the US president "highly unusual" finds and told that you do not often encounter this type of language.
It is not yet known what further sanctions Trump is going to impose European Union has imposed a penalty of one halving of the weapon delivery. How brave the EU is!
Sources:
https://www.nu.nl/buitenland/6004738/erdogan-gooide-brief-van-trump-in-de-prullenbak.html
https://www.hln.be/nieuws/buitenland/trump-kondigt-economische-sancties-aan-tegen-turkije-bereid-om-turkse-economie-snel-te-vernietigen~a628d726/
Share and like as much as possible! This is how we break through censorship together!