Additional deliveries may partly make up for the temporary delay in deliveries from Johnson & Johnson. The US pharmaceutical company yesterday announced it was proactively delaying deliveries after the US paused when six cases of blood clots came to light. It is currently unclear when Johnson & Johnson will make the deliveries again. Originally, it was planned that J&J would deliver 55 million doses in the second quarter
Extra order
Denmark drops AstraZeneca COVID-19 vaccine due to reports of blood clots
Denmark drops AstraZeneca COVID-19 vaccine over reports of blood clots Denmark is the first country in Europe to discontinue use of AstraZeneca COVID-19 vaccine, after the country and more than 12 other countries of the European Union shortly had been suspended. The director of the Danish health agency, Soren Brostrom, said that Denmark had the vaccine […]
The Johnson & Johnson vaccine, which uses the same basic technology as AstraZeneca, hit a snag this week when US regulators paused in administering Johnson & Johnson vaccines. Deliveries in the EU have been suspended.
AstraZeneca should have been the workhorse of the EU's vaccination campaign this year - a cheap and easy-to-transport vaccine to break the pandemic. Still, the EU said that of the 120 million doses promised for the first quarter, only 30 million were delivered, and of the expected 180 million, only 70 million are now due to be delivered in the second quarter.
Because of that shortage, the EU has come under crushing pressure because, although it is a major producer and exporter of vaccines, it cannot even get its vaccinations close to the UK and US levels.
With 200 million doses already reserved for the EU from Pfizer / BioNTech this quarter, the additional 50 million deliveries will be especially welcomed by EU countries facing delivery delays and concerns about "rare blood clots" that may be related keep with the Oxford / AstraZeneca vaccine.
Von der Leyen said the EU will start negotiating to purchase 2023 billion doses of the Pfizer / BioNTech vaccine by 1,8.
"It means that not only the production of the vaccines, but also all essential components will take place in the EU," said von der Leyen.
Von der Leyen expressed complete confidence in the technology used for the Pfizer / BioNTech vaccine, which differs from that of the Oxford / AstraZeneca vaccine.
The active ingredient in the Pfizer / BioNTech image is messenger RNA or mRNA, which contains the instructions for human cells to construct a harmless piece of the coronavirus called the spike protein. The human immune system recognizes the spike protein as foreign, allowing it to build up a response against the virus after infection.
AstraZeneca's is made with a cold virus that the spike protein gene enters the body. It's a completely different form of production: living cells in giant bioreactors grow that cold virus, which is extracted and purified.
Von der Leyen said Europe needs a technology that can boost immunity, target new variants and produce vaccines quickly and massively. "MRNA vaccines are a clear example of this," she said.
The planned negotiations with Pfizer made it unclear whether the EU is still working on possible new contracts with AstraZeneca. "Other contracts, with other companies, may follow," said von der Leyen.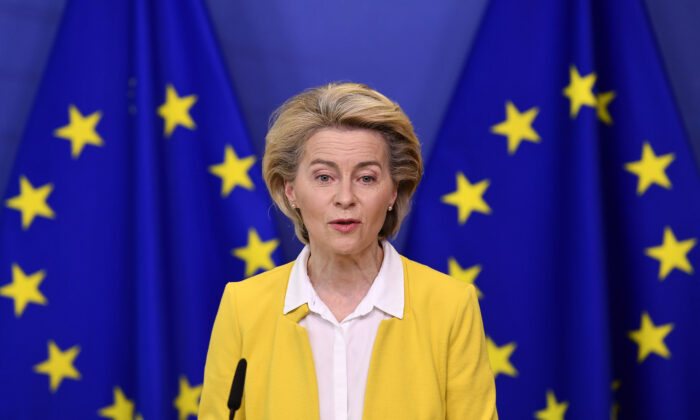 Finally, von der Leyen also announced that one hundred million vaccines have now been administered throughout the European Union. 27 million Europeans have already been fully vaccinated. "That is a milestone of which we can be proud," says Von der Leyen.
What I also want to mention here is that it coincidence wants Donald Trump to make a rather strange comment regarding the suspension of the Johnson & Johnson Vaccine: Former President Donald Trump criticized the decision in a statement, saying he believes it was discontinued for "possibly political reasons," as the Food and Drug Administration said. Drug Administration has more "love for Pfizer".(see art.)