Russian President Vladimir Putin lashed out at US President Joe Biden in an interview with NBC. In his first interview with US media since 2018, Putin brushed aside his US counterpart Joe Biden's "murderer" accusation and called it nonsense from an established career politician.
"During my presidency I have become accustomed to attacks from all quarters and from all areas under all sorts of pretexts and reasons, and of different caliber and vehemence, and none of that surprises me." – Vladimir Putin
In March, Joe Biden gave an interview to ABC News' George Stephanopoulos, asking the president if he would agree with his statement that the Russian president is a "murderer," to which Biden replied that he agreed.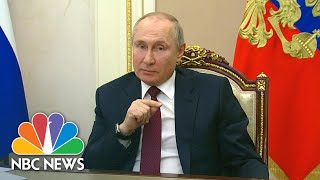 Joe Biden then told a story about a meeting he allegedly had with the "soulless" Putin in 2011. A story that would not match official documentation of the encounter. The US president has also been accused of fabricating a meeting between himself and former Soviet Union leader Leonid Brezhnev in 1979 when Biden went to Moscow.
In the interview, President Putin indicated that relations between the United States and Russia have bottomed out, and it doesn't appear that the Biden-Putin meeting next Wednesday is going to change that in the least. Neither the White House nor the Kremlin have expressed great hopes for a drastic change in how they treat each other.
Contrast Biden-Trump
The Russian president described former US President Donald Trump as a "colorful person" who was not from the establishment and "big politics", which is a fact whether people liked it or not. The current occupant of the White House is "radically different," he said.
"President Biden is a career man. He's spent pretty much all of his adult life in politics, that's a different kind of person, and it's my great hope that yes, there are some advantages, some disadvantages, but there will be no impulse-based moves, on behalf of the incumbent American president." – Vladimir Putin
He also called President Trump an "extraordinarily talented person" and that would have been a breath of fresh air. The full interview will be broadcast on NBC on Monday, two days before the summit.
WATCH: In an exclusive interview, @KeirSimmons presses Russian President Vladimir Putin on accusations that he has ordered assassinations of his adversaries. Putin responds to President Biden calling him a "killer."

MORE: https://t.co/aSBxHuApNG pic.twitter.com/dOVacOSQE4

- NBC Nightly News with Lester Holt (@NBCNightlyNews) June 12, 2021
Vladimir Putin and Joe Biden will meet next Wednesday after Biden's inauguration, at Villa LaGrange in Geneva, Switzerland
Security has been stepped up. Up to 3.500 police officers will be deployed to bolster security at the villa, airport, diplomatic missions and hotels used by Russian and American personnel. Geneva airspace is restricted between 15 and 17 June. The city's lake shore will also be closed off and secured with barricades and barbed wire, without allowing pedestrians, vehicles or boats into the area.