Going on a summer holiday again with a 'green certificate': what does that look like?
Do I need to be vaccinated to get such a green certificate?
No. And this is an important condition that many countries, including the Netherlands, set in advance. They do not want people who are not yet ready to get vaccinated, or people who do not want to be vaccinated, to be sidelined.
There are therefore three ways in which you can get this travel ticket. The first is if you have been vaccinated with a corona vaccine approved by the European Medicines Agency (EMA). The second is if you have recently tested negative. Around noon, when the committee announces its plan, we may hear exactly how recent that negative test must be.
Then there is a third way. If you can demonstrate that you have had corona and are immune because your body has produced enough antibodies, you are also eligible to travel freely again. There are still many unanswered questions about the latter way: how do you know for sure that the person is not contagious? And how exactly do you prove this?
If it is up to the committee, it will be an app on your phone or a document that you can print. In both cases, a QR code is used that can be scanned anywhere in Europe. If this code is then scanned at, for example, Schiphol or at the German border, it can be read whether that person is 'green'.
In the Netherlands, the QR code can become part of the same app as the 'corona check app' that Minister Hugo de Jonge announced for domestic use at the latest corona press conference. This app should provide safe access to the cinema, a concert or museum, and larger events such as festivals.
So according to one of the (probably) upcoming rules as described above, and then I deliberately omit the unreliable pcr test, is that if you have been vaccinated with a corona vaccine that has been approved by the European Medicines Agency (EMA) you can get this "travel permit". to get.
BUTRRRRR !!!!! So just because you have been vaccinated does not mean that you can no longer become infected with the corona virus, although it will most likely not make you very ill. The second question then is: if you have been vaccinated but still become infected, can you also infect others?
Today, it turned out in a home for elderly people with dementia in Wehl, Gelderland twelve of the 29 residents tested positive are on the corona virus, while all residents have already been vaccinated. All infected residents had only mild symptoms, which shows that the vaccine works.
But this outbreak shows that you can still transmit the virus even if you have been vaccinated.
So also all the elderly who have been vaccinated, some even have been vaccinated twice and were almost on the bus to Lourdes?
Or, even though they have a "green travel pass", should they be separated from everything and everyone again?
Green travel ticket USA code Red PCR Test.
Let's see:
In a home for elderly people suffering from dementia in Wehl, Gelderland, twelve of the 29 residents were tested positive for the corona virus, while all residents are vaccinated. The infected residents have mild complaints and are cared for separately from the other people in the home.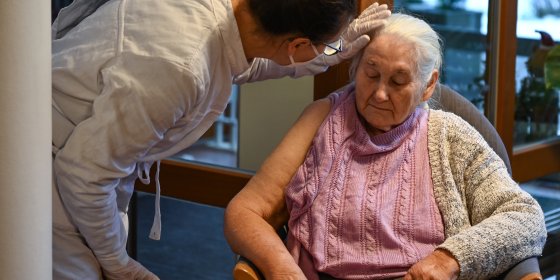 Almost all residents have already had their second vaccination, says a spokesman Sensire, which includes the nursing home. One or two residents have only received their first injection. The people who did get their second shot received it more than two weeks ago.
Still transferable
Once the virus entered the nursing home, twelve people became infected in a short time. The outbreak therefore shows that you can still transmit the virus, even if you have been vaccinated, says specialist geriatric medicine Marco Repko of Sensire.
According to the organization's spokesperson, infections are more common among vaccinated residents of nursing homes. He has never encountered an outbreak of this magnitude before, but that does not mean it will not happen, he says.
"Not all nursing homes publish this kind of information. We have decided to do so, precisely to show that it remains necessary to adhere to the measures. "
The GGD is investigating whether the outbreak in the nursing home was caused by an extra contagious variant of the virus.
You understand by now that we have been completely relegated by governments to mindless tax-paying lower (still) life forms. A virus for them.
Yes, as a people we can of course show civil disobedience, with many even. (see London)
Great image this, it shows that there can still be togetherness among the (cloaked) people.
But unfortunately we are at (or about) the point where politics feels untouchable and therefore, without shame, is now openly pushing through the former hidden agenda.
Respect comes from both sides?
And assume from me that the name "Green" certificate is not unconsciously or just chosen for vaccination, this certificate will keep track of your Social Credit score in the near future.